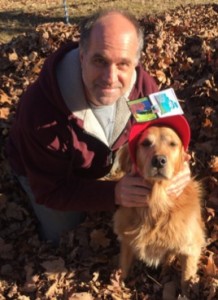 My name is Windy.  I'm a Golden Retriever.  All my life I've been walking New England trails with Jeff Himmelberger and many others who've joined us throughout the past six years.  From our house in West Boylston we've walked trail networks extending beyond Massachusetts and into all other New England states!  Some of the trails we've thus far completed include:  Central MA Rail Trail, Midstate, North-South, Wopack, Sunapee, Warner, and Cape Cod Rail Trail.
My initial encounter with the Bay Circuit Trail took place in summer 2014 when Jeff and I utilized BCT's lovely section #6 (from Acton to Bedford's Minute Man Trail) as part of our 50 miles walk from West Boylston to Boston.  Throughout 2015-16 we chipped away at BCT sections 5-8, slowing making our way northward from Framingham to Lowell as part of our larger ambition to walk 130 miles from our home to Kittery Maine.    We got really lucking one Sunday morning in Spring 2017 when we serendipitously met Frank Bracaglia while walking along BCT's Ashland section.  Frank had been walking southward along the BCT, and he accepted our offer to join him on future Sunday morning walks until he completed the BCT at Kingston Bay.
Frank then reciprocated by offering to join us for completion of BCT sections 1 – 4 during fall 2017.  I was so happy to have finished the trail at beautiful Plum Island Beach!  I celebrated by rubbing my fur into the most fragrant dead fish I've ever encountered!  Frank also accompanied us from BCT to Kittery Maine and we've since made plans to walk the M&M trail together next year.
Before discussing my favorite BCT places I'll mention that my least BCT favorite places are walks underneath tick-infested power lines.  After one infamous walk I returned home with nearly 100 ticks attached to my skin and this event nearly put an end to our BCT quest.  Fortunately tick medicine is quite strong these days, able to kill nearly all ticks soon after they bite.  But… the removal of all those dead ticks that had attached themselves to my skin was a low-point in our BCT trail adventures and resulted in Jeff's temporary banishment to the doghouse.
My favorite parts of the BCT are many.  While Jeff particularly enjoys the occasional viewpoints and soft pine woods I immerse myself within the numerous reservoirs, streams, rivers, puddles, muddy swamps and cranberry bogs.  On a hot summer's day there's nothing better that cooling off multiple times then sharing the coolness by shake-drying myself alongside my walking companions!   I also enjoy the more popular sections of the trail where I encounter other BCT folk and their canine companions.
Happy Trails to You!
Windy (and Jeff Himmelberger)