Please join us for one of two screenings of "Hiking the Bay Circuit Trail: A Video Journey." There will be one at Memorial Hall Library in Andover on March 27 at 7 p.m. and another at Tewksbury Public Library on March 30 at 7 p.m.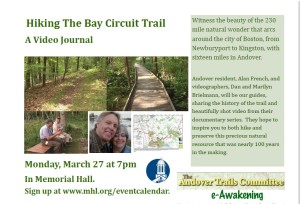 Witness the beauty of the 230-mile natural wonder that arcs around the city of Boston, from Newbury to Kingston.
Andover resident Alan French and videographers Dan and Marilyn Brielman will be your guides, sharing the history of the trail and taking you along its route in a beautifully shot video from their documentary series. They hope to inspire you to both hike and preserve this precious natural resource that was 100 years in the making.
From Memorial Hall Library: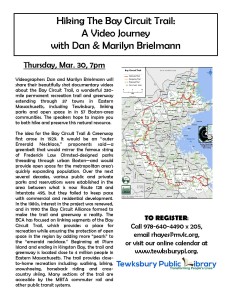 Dan and Marilyn Brielman of e-Awakening, a website for 'The Preservation of Nature & the Protection of Resources' will share information about this wonderful 230 mile resource with 16 miles of trails in Andover.
The idea for the Bay Circuit Trail & Greenway first arose in 1929. It would be an "outer Emerald Necklace," proponents said—a greenbelt that would mirror the famous string of Frederick Law Olmsted-designed parks threading through urban Boston—and would provide open space for the metropolitan area's quickly expanding population. Over the next several decades, various public and private parks and reservations were established in the area between what is now Route 128 and Interstate 495, but they failed to keep pace with commercial and residential development. In the 1980s, interest in the project was renewed, and in 1990 the Bay Circuit Alliance formed to make the trail and greenway a reality. The BCA has focused on linking segments of the Bay Circuit Trail, which provides a place for recreation while ensuring the protection of open space in the region by adding more "pearls" to the "emerald necklace." Beginning at Plum Island and ending in Kingston Bay, the trail and greenway is located close to 4 million people in Eastern Massachusetts. The trail provides close-to-home recreation including: walking, biking, snowshoeing, horseback riding and cross-country skiing. Many sections of the trail are accessible by the MBTA commuter rail and other public transit systems.
This event is sponsored by Memorial Hall Library and the Andover Trails Committee.